2018 Update: Physical copy available!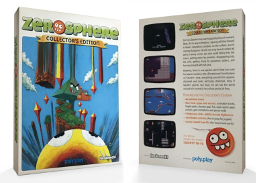 Over at the
poly.play store
, you can purchase a boxed version on
disk
or
CD ROM
.
These editions feature updated and completely new levels, CD³² support, new enemies, hiscore saving, and much more!
zerosphere
Finally it's here: A playable, complete version of the 2015 platform game zerosphere for Amiga 500 and up. Grab it here:

zerosphere.adf
Amiga disk image, 880 KB

zerosphere.lha
archive containing a Workbench-startable executable
UPDATE: If you are stuck somewhere and you would like to cheat the old-school way, the amazing folks at flashtro.com have built and released a trained version, along with a sweet cracktro. :) Check it out:

Trained version
(over at flashtro.com, see download link)
ADF image with trainer
Requires Kickstart 1.2 and 1 MB of RAM (512 KB Chip and 512 KB other RAM); PAL only, sorry! Tested on A500/Kick 1.3 and A1200 with Kick 3.1/680EC30. Should also work on all common emulators and, if your machine is fast enough, your browser!
Released at evoke 2015
zerosphere was the winning entry of the interactive compo at evoke 2015, even though it was still in a very early development stage at that time (see here). A lot of bug fixing and new features went into the final version that was released at under construction 2015, and I hope it has turned into a fun little game!
<3 to all Amiga and retro enthusiasts!